1) Joint Anti-Nuclear Protests
Sunday, 24th of May, in Greece, Cyprus, Georgia and many cities in Turkey, anti nuclear protestors took to the streets with simultaneous demonstrations against the AKP's nuclear power plant projects.
---
2) Yet Another Wave of Attacks Targeting Election Offices of the HDP
Monday, 25th of May, in Rize and Erzincan and on May 31st in Aydın, HDP election offices were targeted once again by fascists – minor damage occured.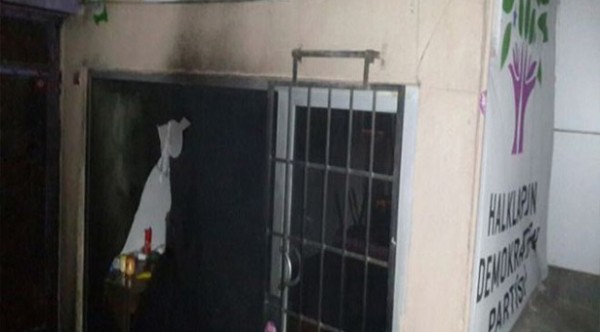 ---
3) Protest In University Where Two Were Stabbed By Fascists
Monday, 25th of May, following the previous stabbings of two Students Collective members by fascists in Ankara University's Language and History-Geography Department (DTCF) last week, the first day of class this week started with protests; during which a clash between the students and the fascists occurred. Shortly after, the Police intervened and sided with the fascists.
All classes were cancelled once again.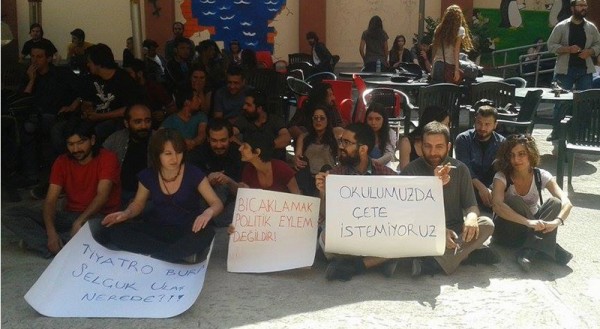 ---
4) 31 Detainees During the Hasan Ferit Gedik Trial
Monday, 25th of May, those wanting to follow up on the case of Hasan Ferit Gedik – who was murdered while attending a march against narcotics in Gülsuyu (İstanbul) – suffered constant police aggression.
During the course of the trial, a total of 31 people were detained.
On Semptember 29th 2013, as of yet undetermined assailants had opened fire upon the protestors while they were marching and Hasan Ferit – 21 years old – was among the four people who were hit; the other three survived with injuries but Hasan Ferit didn't make it.
Back when he was killed, Hasan Ferit Gedik's body couldn't be inhumed right away, because Police forces kept blocking the entrances to Armutlu, Yalova (where he was to be buried) for three days. He was put to rest only on the fourth day.
Following autopsy, it was determined that Hasan Ferit was shot six times.
The clothes he was wearing when he was shot – meaning evidence pertaining to murder – have since vanished out of existence.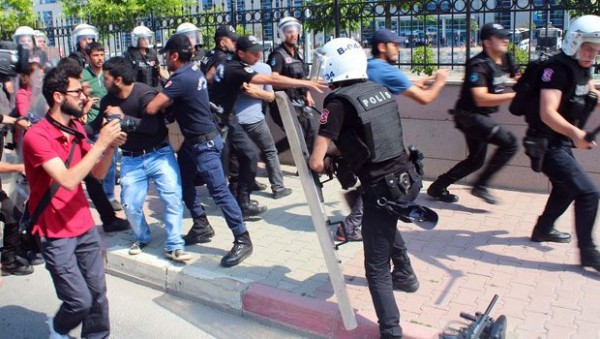 ---
5) HDP Amasses Hundreds of Thousands at Rally Despite Hinderances
Tuesday, 26th of May, the governership of İstanbul issued a statement with the spirit of thwarting the HDP's call for a massive rally on the 30th – same day as the AKP's Conquest Feast was to be held – which, up until today, was annually held on the 29th of May. At the very end of this official statement, people were once again reminded they were invited to join the Feast.
The Conquest Feast is held annually by the AKP in commemoration of the conquest of Constantinopoli in the year 1453 A.D.
Despite the aforementioned statement which threatened to ban the HDP from holding a rally at Kazlıçeşme, they still managed to realize it and amass hundreds of thousands by the way of holding it earlier than previously planned.
As a result, many supportive parties have expressed their optimism regarding whether or not the HDP was going to be able to beat the dreaded 10% election threshold.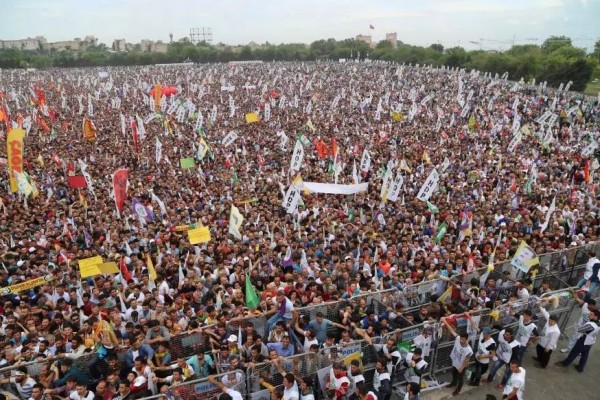 ---
6) Onur Yaser Can's Case Was Adjourned Until October
Tuesday,  26th of May, during the first trial of Onur Yaser Can's case, lawyers revealed that the judges had only superficially perused through the evidences and that the prosecutor had failed to fulfill his duties; in light of this, the case was adjourned tuntil the 14th of October.
Four years ago, Onur Yaser Can was subjected to psychological and physical torture under Police custody; he could not bear long the weight of the brutalities he had suffered and shortly after committed suicide. Onur's bereaved mother, who had taken up and continued the legal struggle, could no longer find the strength to do so, and last year she leaped to her demise from the same balcony Onur had committed suicide.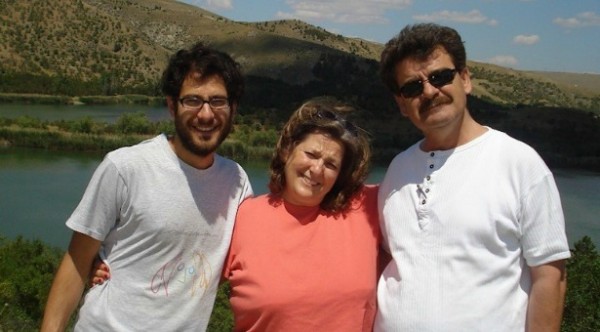 ---
7) Police Targets Social Democratic Party's (SDP) Press Office
Tuesday, 26th of May, Police blockaded the press offce of the SDP just before they were due to hold a memorial service in Kadıköy on 26th May for Bedrettin Akdeniz, a revolutionary fighter who lost his life in Kobanê. Police attacked members of the SDP inside the building and 7 people were taken into custody. The police blockade at Gelecek Gazetesi newspaper office continued until late at night.
Friday, 29th of May, the 5 detainees were transferred to the Court of Justice of İstanbul at Çağlayan Courthouse. They were all tried; Ufuk Erhan of the newspaper Gelecek Gazetesi was arrested on grounds of "being a member of an illegal organisation", while Ezgi Aydın and Sera Yelözer were released on condition of judicial control. Onur Öncü and İmge Tabakçı were also released albeit with a ban on leaving the country.
---
8) Rape continues in village for 7 years
Tuesday, 26th of May, it was revealed that S.A. was subjected to rape hundreds of times by 20 men ranging in age from 14 to 70 over a 7 year period. The little girl, who was reportedly raped also by her own brother was held to blame by her mother and beaten. S.A. did not talk about the issue to anyone until she was 15 years old.
---
9) Police operation carried out against the Democratic Peoples' Federation (DHF)
Wednesday, 27th of May, in raids carried on homes in Okmeydanı, Gazi Mahallesi, Dudullu, Sarıgazi, Nurtepe and Alibeyköy 18 Democratic Peoples' Federation (DHF) members were taken into custody after having participated in a rally in memory of Berkin Elvan, and celebrating the occasion of 1st May, Labour Day – 9 of them were arrested.
---
10) Events to commemorate the anniversary of the Gezi Park and Taksim Resistance
Wednesday, 27th of May, the We Are Everywhere campaign has begun as part of the events to mark the anniversary of the Gezi Park and Taksim Resistance. The event's slogan is:
We are everywhere, in body and spirit, side by side with those we have lost and the experiences we have had that will never go away, everywhere – with our love and our spirit of resistance.
Following a march in which everyone will carry carnations, there will be forums, workshops and a variety of activities in Abbasağa Park and Özgürlük Park, İstanbul.
---
11) Logistics Workers Occupy Depots and Halt Production for 1 Day As a Warning
Wednesday, 27th of May, A protest has begun at a depot on the Esenyurt Hadımköy Road where 12 people were sacked for having joined a Confederation of Progressive Trade Unions of Turkey (DISK) -associated Transport union Nakliyat İş. The protest has been joined by over 100 workers, who, in support of their 12 sacked colleagues have been demanding, 'Reinstate the sacked workers', and 'Acknowledge union rights'. The factory employs a total of 300 workers including union members and management and workers announced that they had occupied the building until morning and halted production as a 'warning protest'. Workers ended their protests by returning to work the next morning.
---
12) Workers Stage Walk Out Protest by Locking Themselves in the Factory
Thursday, 28th of May, Petrol-İş member-firm Petkim workers staged a walk out protest by locking themselves in the factory after talks concerning a Collective Labour Agreement between management representatives was agreed but reconciliation broke down between management representatives and representatives of the Petrol-İş Aliağa Branch. In the Collective Labour Agreement workers had asked for better rates of pay during bayram national holidays, better annual leave and the redress of the pay gap between management and staff. Following this, hundreds of Petkim workers locked themselves in their factories. Aliağa Branch Chairman of the Petrol-Iş Union stated that the workers would resist and continue their protests until reconciliation was achieved.
Friday, 29th of May, 1864 workers keep occupying their factory and the product inflow/outflow was halted while overall production continued. The workers who do not have the right to strike, have nevertheless stated that in the event of an intervention they would impose a full stop on all production. The workers have stated that in such an event, they would use all their new found power to influence the process of signing a Collective Labour Agreement.
[Update]
Tuesday, 2nd of June, Petrol-İş website announces that an agreement has been reached in the signing of the Collective Labour Agreement.
---
14) Attack on Trans Women in Istanbul
Friday, 29th of May, a trans woman called Afet was attacked with batons by two people on a motorbike in Şişli, Istanbul. Afet was hit heavily with batons by the two people and was taken to Okmeydanı State Hospital. Afet was taken into the Intensive Care Unit of the hospital for treatment and was there visited by a large number of friends offering their support.
Similarly, a trans woman in Fındıkzade was attacked when a beer bottle was thrown in her face by two people in the street. The attack took place on the 28th of May and resulted in Asya suffering lacerations to her face. Eye witnesses described how the attack took place very suddenly as Asya was speaking on her telephone.
The number of transphobic attacks in Istanbul in May alone now stands at seven.
---
15) Saturday Mothers/Persons Assembly Enters Its 531st Week
Saturday, 30th of May, The Saturday Mothers, who continue their quest for justice by demanding to know the fate of their relatives who went missing whilst in custody and who call for the perpetrators to be tried, continued their call for justice by gathering for the 531st time in Galatasaray Square. This week's meeting was dedicated to Şahsenem Cihan, who had died two days earlier and was the mother of Süleyman Cihan who disappeared during the 12th September military coup. The first person to speak at this week's meeting was İrfan Bilgin, brother of Ali Bilgin. Bilgin stated, 'I no longer have any expectations. If anything is going to be achieved, it will be achieved by us with our honour and by our struggle. Because we know and they know only too well: If we take one brick out of this building, the building will crumble.'
---
16) Attacks On Medical Staff Increase as Healthcare is Further Neoliberalized
Saturday, 30th of May, a memorial service was held today in the hospital in which he worked for MD. Kamil Furtun who was killed whilst doing his job. The Turkish Medical Association's Central Council released a statement saying, 'This is not a discrete case. We not only want to find the murderer but the instigators must be found too!' They also revealed that they would not be entering hospitals in 1st June to protest such murders by the slogan "We're in mourning, we are in revolt".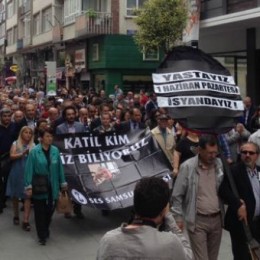 ---
17) Şakran Prison Report Published
Saturday, 30th of May, it is revealed according to statements by children that sexual abuse is taking place among young inmates at Şakran prison. Sexual abuse has been perpertrated by both convicted inmates and those as of yet not sentenced with mostly 'weak and uprotected' children being targeted. Once a case of sexual abuse is identified, if the victim is sent to another unit, the sexual abuse carries on, for similar reasons. The instances of sexual abuse took place in blind spots where the prison's cameras can not operate.
---
18) Stopped MIT Aid Trucks Bound to Syria Were Full of Weapons and Ammunition.
Sunday, 31st of May, in the trucks bound to Syria belonging to MIT (National Intelligence Agency) which President Erdoğan claimed were aid trucks to help the Turkmens, disguised crates of weapons and ammunition were found which initially looked like boxes of medicine.
The footage was released by the newspaper Cumhuriyet; which has now become the target of an investigation carried by the state's prosecution office.
While echoes of the released footage keep emanating, as stated by the MP Mehmet Ali Ediboğlu (CHP), the ordnance shipments continue as well.
https://www.youtube.com/watch?v=T4nDFUNtWtU
---
19) Sevag Şahin Balıkçı Trial Continues
Sunday, 31st of May, according to the expert's report, 41 bullet holes were found on Sevag's clothes.
The clothes were sent to criminal lab for further investigation.
Sevag Şahin Balıkçı, while doing his compulsory military service as a private in Batman, was killed in a racist attack.