Turkey Diary
Protests against the Ankara massacre were held countrywide. New footages were revealed showing police gassing doctors who were trying to treat the injured moments after the explosions. State security forces attacked commemoration demonstrations and several demonstrators were arrested.
People of Hakkari protested against state's war policy towards Kurds. KCK had declared unilateral ceasefire (DIHA) pic.twitter.com/BLlSQTXDB2

— isyandan.org (@isyandan_org) October 19, 2015
It came to light that the leader of the ISIS cell in Semsur (Adıyaman) who were behind the Ankara, Suruç and Amed HDP Rally bombings, Mustafa Dokumacı's phone was wiretapped and under surveillance since 2013 as a part of the Al Qaeda investigations.
As in Suruç and Amed HDP election rally bombing, right after the explosions in Ankara too, the government used the attacks as an excuse to carry out house-raids and launch witch hunt operations against the Leftists and Kurds under the name of "anti-terrorism operations". The state speed up the operations against the people in order to raise the fear before 1st of November elections. In a house raid carried out in Armutlu of Istanbul which is mostly populated by Alevis and known by its 'revolutionary' identity, 24 year old Dilek Doğan was shot on the chest into coma, even though she was unarmed and there was no apparent tension (18th of October). On 25th of October she lost her life.
Dilek Doğan(24) shot by riot police in house raids as a part of operations targeting Popular Front(Marxist) #Armutlu pic.twitter.com/pL4ueNVSV2

— isyandan.org (@isyandan_org) October 18, 2015
#DilekDoğan (24)shot by police in house raid despite that she was unarmed lost her life @InsurrectNews @syndicalisms pic.twitter.com/PknI5PAeP4

— isyandan.org (@isyandan_org) October 26, 2015
On one hand as operations continue countrywide, on 17th of October Dev-Lis (Revolutionary High School Students) members were attacked and detained for carrying banners with Latuff comic insulting Erdogan on them. Following to the arrests Carlos Latuff expressed solidarity with the detained youth with another caricature.
Günün Karikatürü: "Bu bir demokrasi değildir" #kuzukuzuyargilanacaksiniz pic.twitter.com/a0PoBSXN9L

— Carlos Latuff (@LatuffCartoons) October 18, 2015
The official death toll of the Ankara massacre was announced as 102 (as of 16th of October). It is expected that the number will rise due to the fact that several people are still in critical condition.
Angela Merkel's visit to Turkey to meet Tayyip Erdogan and Ahmet Davutoglu regarding the question of refugees, right after the Ankara massacre, was criticized since it has been presented as a supportive gesture for Erdoğan despite his authoritarian governance and anti-democratic practices.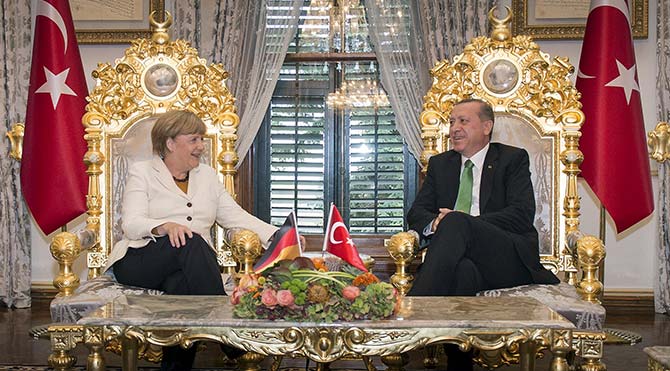 Bianet released a 3 month (July – August – September) media report. According to the report out of 24 journalists in total, 13 from the Kurdish media and 9 distributors, all from the Kurdish media were arrested. Access to Bestanuce, ANF, DIHA and Sendika news agencies have been repeatedly banned. State continues to protect the perpetrators of journalists Musa Anter and Hrant Dink's assasinations.
#Turkey media report(July-Aug-Sept) via @bianet_org : 24journalists(13 of from Kurdish media) & 9distributors(all from Kurdish media jailed.

— isyandan.org (@isyandan_org) October 19, 2015
The Ankara massacre case started off with irregularities. The state issued a confidentiality order in order for the public and the lawyers of the victims not to have access to the files. As objections against the confidentiality order were denied, the transparency of the investigation was jeopardized at the very beginning.
#AnkaraBombing investigation file restricted with confidentiality order 2 prevent lawyers of victims&public from tracking state's complicity

— isyandan.org (@isyandan_org) October 19, 2015
Justice for Suruç Platform released their first report regarding the case. According to the reports 3 days beforethe bombing the security camera at the bus terminal was deactivated and the footage of a nearby camera was seized by the police. Just like the Ankara massacre, this time too, the plaintiff attorneys' access to the files were denied. Also it has been stated in the report that, just like as in the Ankara bombing, right after the explosion took place in Suruç police used tear gas and obstructed the ambulances. It is reported that despite the fact that there have been prior warnings about the threats, no security measures were taken and according to statements of the eyewitnesses, the suspect who reportedly signaled yes by nodding his head while riding a motorcycle was taken out of the city under police protection. The report also mentioned that the investigation was conducted by the anti-terror teams instead of the prosecution.
The media ban on the Ankara massacre had been lifted on 19th of October, but it was never recognized by the left wing progressive media.
An investigation on family of Berkin Elvan, who was shot on the head with a gas canister during the Gezi protests in Okmeydanı and later on lost his life at the age of 15 after 269 days in coma, launched for insulting Recep Tayyip Erdoğan.
Familiy of #BerkinElvan who was killed by police tear gas cannister under investigation because of insulting Erdoğan pic.twitter.com/bUc5JQlkzt

— isyandan.org (@isyandan_org) October 19, 2015
Within the scope of political genocide carried out against the HDP by the government, HDP's election manifest was legally recalled (19th of October)
A drone was reportedly brought down in the Kumlu of Hatay, near the Syrian border. Following to an investigation it was asserted that a drone called 'predator' belonging the US was found and that it made an emergency landing due to a technical error (19th of October).
Kurdistan Diary
Following the Ankara massacre the government initiated a wave of curfews in order to oppress the people of Kurdistan prior to the early elections. Curfews were issued for Lice, Silvan and Siirt. The people put up a strong resistance against the curfew in Silvan. Contrary to the decision of the Supreme Committee of Elections, ballot boxes are still being carried from localities to the city centers. The goal is to prevent the people of Kurdistan from voting to carry the AKP to an ultimate majority by forcing HDP under the 10 percent thereshold.
Ppl of #Silvan resist against attacks of special op. forces.Tanker used as barricade burnt by police fire #Kurdistan pic.twitter.com/wbobLt9IfW

— isyandan.org (@isyandan_org) October 18, 2015
Diyarbakir Bar President Tahir Elçi was detained for making a verbal statement saying, "PKK is not a terrorist organization" on live TV. For him a ban on leaving the country was issued and he was released on 20th of October. Elçi noted that he stands by his words subsequent to his release.
President of #Diyarbakır bar Tahir Elçi is detained because of he stated that PKK wasn't a terrorist organization pic.twitter.com/u89khd5mON

— isyandan.org (@isyandan_org) October 20, 2015
The Turkish army bombed Suna Cicek and Doktor Baran guerilla cemeteries in Pulumur of Dersim.
#Turkey security bomb and destroy #PKK cemetery… Not that different from dragging dead body behind police vehicle. pic.twitter.com/uUuxrHeA5f

— IrmakYenisehirlioglu (@Irmak_Ye) October 19, 2015
Three TKP/ML-TİKKO guerillas – Cengiz İçli, Özgüç Yalçın and Hakan Çakır- who lost their lives in clashes in Dersim on October 22 were commemorated in revolutionary neighborhood of Ankara on October 25. Funerals of guerillas still held in Elazığ Institution of Forensic Medicine since it is a standard procedure for the state to deny giving the funerals to the families of guerillas in order to further torture the families.
3 TKP/ML-TİKKO guerillas who lost their lives in clashes in Dersim on Oct 22 commemorated in #Tuzluçayır (Oct 25) pic.twitter.com/syp9Q2QiOE

— isyandan.org (@isyandan_org) October 26, 2015
Upon the declaration of democratic autonomy in Girê Spî Erdoğan threatened PYD stating as "Cantons have become a threat to Turkey. We'll do what is necessary". YPG press office reported that Turkish military attacked YPG forces positioned in Girê Spî front at October 24 night through morning of October 25.
YPG: Turkish military attacked YPG forces positioned in Girê Spî front at Oct 24 night through Oct 25 morning. #YPG #TwitterKurds

— isyandan.org (@isyandan_org) October 26, 2015
Worker Diary
At the 4th group hearing and 7th session of the case of Soma massacre in which 301 miners lost their lives, took place on 21st of October. It was revealed at the hearing that witness workers were threatened to be laid off.
On the 50th day of their resistance (on 21st of October) workers who initiated a resistance after 16 Nakliyat-İş union members in Santa Farma factory were laid off, occupied the general management building.
Workers' Health and Work Safety Council announced that 29 construction workers alone were killed in working accidents in October (19th of October).
Uydurmuyoruz, işçiler çalışırken ölüyor… Ekim'de 19 günde 29 inşaat işçisi. Tarih-isim-neden bilgisi ile @EminCapa pic.twitter.com/qcaJicVO1b

— İSİG Meclisi (@guvenlicalisma) October 19, 2015
Women Diary
Women went out on the streets following to the Ankara massacre all across the country for defending peace. Below, the tweet belongs to 'Women For Peace', a protest which took place on October 20, in İstiklal Str., İstanbul.


Ankara'da öldürülene dek barış demeye devam etmiş insanların hikayelerini dinliyoruz pic.twitter.com/gsNKhLRoRn

— Barış için Kadınlar (@barisicinkadin) October 20, 2015
On account of the sexual harassment committed by a special security guard called Emrullah Beyaz in the Beyazit Campus of Istanbul University, female students made a press declaration on 21st of October.
Hostile rhetoric against women by the pro-government media continue to take place. Lastly Mustafa Özcan, a columnist in the reactionary newspaper of Vahdet targeted women by saying 'women got out of the line because of the civilization'. Due to the state politics, women being targeted in the media and society, the number of women who were killed by men reached 205 in 2015, which only reflects the official toll.
Association for Disabled Women published first report documenting violence towards disabled woman in Turkey. Report stated that disabled women subjected to violence at home as well as in care centers, in schools and on streets.
Saturday Mothers/People
At the 552nd week of the protest of the Saturday Mothers/People, Hüseyin Toraman who was disappeared in 1991, was commemorated (October 24). Saturday Mothers/People condemned the threat of 'white toros' which was a typical vehicle used for kidnaps in Kurdistan during 90s. PM Davutoğlu reminded of 'white toros' during his speech as a symbol referencing to the executions in the region in order to frighten people forcing them to vote for AKP.
isyandan.org